Hello my favorite design-people:-)
I have been wrapping up a bunch of projects lately. This is great because it means that I have a lot of before&after pics headed your way! One of the final steps in wrapping up a project is the most fun...accessories! It seems that most clients are intimidated by buying and placing accessories. I agree it's a tough part of a project, but no room is complete until the final pillows, artwork, candles etc. have been placed.
I should add that most of my designer friends would argue that this is a very "decorator-esque" post, and I agree. However, it is a key part of being a residential designer.
Here are some of my favorite accessorizing tips:
1) Buy, buy, buy. Charge that card baby! Don't look at the price-tags and stress about how much you are spending. Go to some of your favorite stores and start piling up what you love! You will find a spot for it! I typically purchase double what I actually end up using in the space. Sometimes you will be surprised at what you use and what you don't.
2) Start out at the discount stores. TJMaxx, Home Goods, Marshalls, Ikea, Ballard Backroom, Target and Walmart. I always start here. I am constantly amazed at the products I find at half-price, that I saw at ZGallery and even Restoration Hardware....
3) Only purchase accessories from retail stores. Some of my favs are Zgallery, Pottery Barn, CB2, Crate & Barrel, and West Elm. This is important, because you can always return what doesn't work in your space.
4) This seems obvious, but try to vary your objects. Try to avoid "candle-land" or "picture-frame-land". Add in a clock, go for the funky elephant, add a wood sculpture, grab the bright blue vase.
5) Buy in 3's and 5's. Items typically look better in odd numbers.
6) Add texture and pattern. Grab some nubby baskets, add a furry pillow, or a colorful striped rug.
7) Mix and Match. I have 5 pillows on my sofa. None of them match, but they coordinate. Take 1 floral, pull out the blue color in the florals with a solid pillow. Add a white pillow, then pull in a stripe that coordinates with everything else.
8) Rugs and drapes are expensive, but no room is complete without a rug and drapes. Save on cost by purchasing your drapery hardware from Target.
9) Don't buy a piece of art unless you love it. You have to stare at that artwork every single day...love it! Check out art.com and find a print of a piece that you love. You know those great maps that they are selling at Restoration Hardware...they cost over $1000. Find a map on art.com and they will frame it beautifully for under $200.

10) Go big or go home. Don't buy teeny, tiny little accessories. Buy big impact items that become a focal point of the room.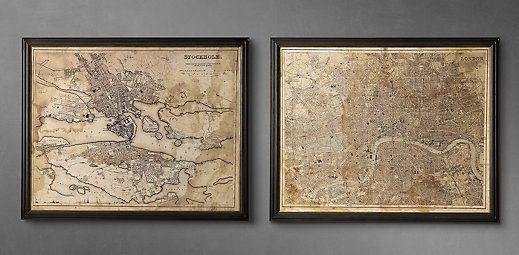 11) Plan out your frame walls. It's difficult to put together a family wall...here is one of my favs.
Last piece of advice is if you are still feeling overwhelmed, hire a designer. Myself and a lot of designers will accessorize your room at an hourly rate. It's pretty time consuming and difficult to properly accessorize a space. A lot of my clients have great taste, but they are short on time. You can save a lot of time, energy and money (yes, money---designers get great discounts!) by hiring a professional. Let me know how I can help!
XOXO,
Chelsea